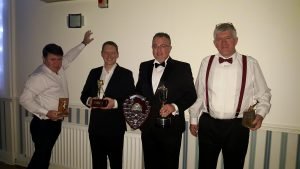 A great turn out and evening was had by all that attended the Trafford Sub-Aqua Club Dinner Dance and Presentation social evening last night to celebrate 2017's year of diving and achievements.
Main raffle prize was provided by our guests from Aqualogisitcs and was complimented by donations from club members.
A full list of the award winners can be found on our Awards page and a richly deserved well done to all those receiving an award and those receiving a grade certificate.
The winning pictures will be on our Flickr account shortly and on the awards page there is a link to the winning 2017 video. Plus a chance to read the well written poem for this years Poseur of the Year!
Thank you to Debbie Robinson who organized the evening and who fittingly won the whisky in the "Roll-a-washer" game.
A lovely evening, time to start planning next years already and for the members to be thinking about those photo and video entries.
Thanks all.

A montage of pictures from the evening can be seen here