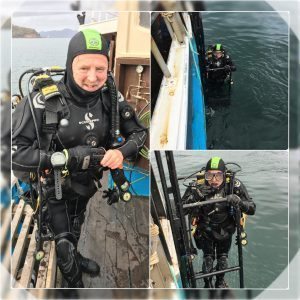 Congratulations to TSAC membership secretary, Paul Tweedale, who in this his 65th year on the planet, has completed his 65th dive of the year this weekend on board the Gaelic Rose out of Oban.
A quick re-count with the Diving Officer last week sorted out the total done this year, and after being involved with live-a-board trips to Malpelo (Eastern Pacific), Easter in the Small Isles, Plymouth and Cape Wrath, plus club RIB diving in North Berwick and Day Boat diving in Connemara (Ireland), Paul did his 65th dive of the year on Calve Island.
Previous years have also seen Paul diving high numbers of dives, with club trips to Norway, Scapa, Shetland, Scilly Isles, Skye and the Red Sea being amongst the many places he (and the club) have visited.
With trips booked to Plymouth and Browning Pass, Canada already planned next year, it doesn't look like he is slowing down either! Well done Paul.