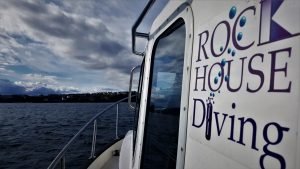 Meeting early on the day you travel up is a good idea. Get the four hour journey over with, beat rush-hour, unpack, then kit up for a shore dive in the evening. That's just what Steve and I did with an easy walk out over a rising tide to take a bearing to Seagull rock and enjoy a nice leisurely 45 minute dive. Good viz with plenty to see, and various rock formations rising from the seabed to interfere with navigation all adding to the dive. Plenty of Squat Lobsters, Goby's and lobsters out for a walk.
Back to the shore and the 20 meter walk back to Rock House, where we were staying as a group of 9 with Paul Crowe and Dive St Abbs in the bunkhouse. Bunkhouse doesn't do it justice, 10 good sized comfy bunks in three rooms each with a toilet and shower, plus lounge and kitchen area for socialising. Bottles dropped off for a fill literally next door and time for a beer waiting for the rest of the group to arrive. Resulted in a nice social evening when we were all there, catching up, a few drinks and having a laugh, it's part of what being on a dive trip with a club is about.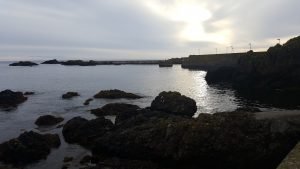 Next morning we were up and with a bacon butty from Pauls wife ready for diving at 10. We had been joined by two more of our party who were using their camper van at Scoutscroft. The boat pulls up to the end of the pier and a great winch for dropping kit onto the boat makes loading up very easy. First dive was Anemone Gully about 10 minutes cruise from the harbour. Dropping down to about 13m in depth, the seabed was just covered with Anemones, sponges and dead mens fingers. Crabs a plenty, squats, some good sized lobsters and a few flat fish all in 10m viz. Too soon a 50 min dive was over and time to ascend for a chat and brew on the boat. With a quick trip back to harbour we unloaded the bottles for a fill and it was either lunch at the harbour cafe or get something in the bunkhouse you had brought with you.
Our afternoon dive saw us about 10 minutes from harbour. Wuddy Rocks over to Black Carr. Wuddy Rocks are a deep cut gully about 4m apart, some current at the bottom means a little harder swim, but still plenty of time to see the velvet swimming and edible crabs down there. The gully is full of cold water corals, sponges and anemones. An easy navigation over to Black Carr takes you over lots of other boulders covered in sea life, hiding lobsters, shrimps and what seemed to be a ballan wrasse wanting to follow us. Others in our dive group saw Wolffish here, would have been nice to see but I was made up with the Octopus my buddy Mike and I saw and whilst watching it, it moved a little and to see it change colours made me feel wonderful and like getting out and telling others about it! Soon it was time to ascend though, up on a DSMB to be picked up. Am starting to like lifts on boats!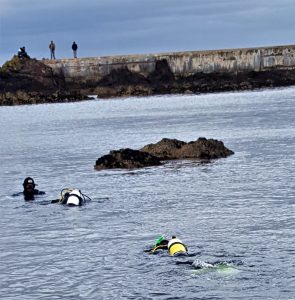 The evening saw us walking up the coast path to Coldingham for an evenings meal in The New Inn. Not before three of our number had done an evening shore dive though, taking a similar dive from the car park wall over to Seagull rock as we had done on Friday. The walk back from the pub was warm, a nice evening for it, and we got in just before the rain started which was a bonus. A few more tired people tonight saw some early retirements to bed and it wasn't long before everyone was. Good fresh air, a nice meal, a few drinks and chat had seen us off.
Sunday morning, another provided bacon butty and an earlier start down the pier to load bottles, reconnect kit, and then a slightly longer journey (by a few minutes!) round to Skelly Hole. Good skippering lined up the boat for an easy entry at the best place. Dropping down onto a shell shingle sea bed made the sunlight more reflective and very light and clear for diving. Little bit of a swim against current to get round a steep pinnacle. Worth swimming past though as it was covered in life. The current then takes you along the shore line, not too strong and easy enough to move away from the rocky shore line to a flatter bottom that eventually turns into a mass of brittle starfish. On the way to that though, there are still lots of lobster, fish and soft corals to see. Another great dive.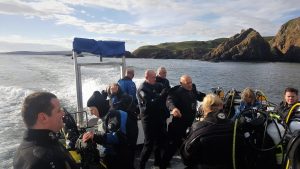 The second of Sundays dives saw us kitting up on the boat in the harbour as the trip round to Cathedral rock was a short one. Last time I dived it was from shore, doing it from a boat allows you that chance to explore a little further out. Which is just what we all did. Many guides say the rock doesn't break the surface – it does, just, I guess on the right tide, but as the skipper was pointing to it and telling us that was it, it certainly breaks surface and was an easy guide right into the arch. The arch is covered with deadman's fingers and plumose anemones. Viz wasn't great compared to what it had been on previous dives, but when you looked at the flatter rocky bottom, there was as much to see. Pleased that our organiser Simon, last dive pair up, saw an Angler fish just before his ascent, face was beaming when he broke the surface.
An easy trip back into harbour to unload, winch everything off onto trolleys, back the 2 minutes walk to the bunkhouse, where a fresh water hose is available to wash off kit. Pack up at a leisurely pace as there was no rush on us in the morning when we got up to get our kit out of the bunks, square up the bills and then say good-bye's. A great weekend, good company, blessed with the weather letting us get our dives in, and looking forward to returning.
A montage of pictures from our trip can be found here.