There aren't many times I've set off for a days diving at half four in the afternoon – in fact I can say this was the first. We all squeezed into one (large) car and with Steve Gresty driving we were soon leaving Sale. It took us about two and a half hours to drive the 125 miles or so to the North Wales bay of Porth Ysagden with one short stop at Tesco Caenarfon for supplies. Interesting listening to Mike and Anthony in the back discussing the calorie content of Kit-Kats.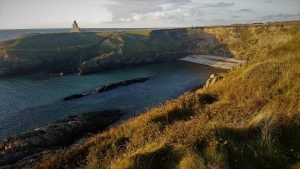 A quick look at the bay, and a plan to do the first dive on the North side of the bay was set. Kitting up didn't take too long (quite unusual for TSAC members) as we had limited space in the car, we had put a lot of it together before leaving. Ready to get in for about half past seven. Got in at eight, back to TSAC milling and faffing!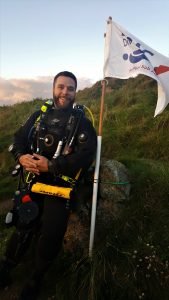 There's a set of rocks at the bottom of the slip that you need to avoid when walking in, so are well advised to walk all the way round them before putting fins on. Which is what we did at the rocks on the North side before a shallow fin out to a couple of meters depth. Viz was good, probably up to 6 meters, we weren't diving as a four but in the early stages we were near each other and visible to each other. An excited Anthony flashed us over to a very docile dogfish, the first of a good half dozen on this dive. There is a lot of bootlace seaweed to get through close to the wall, so coming off it a little it thins out and lets you see more of the seabed. Plenty of different crabs to see, some shoal of small fish, a fair few shrimps and a few nice Tompot blennies. Sea temp was 16 degrees, and depth we got to was just over 5m so dive times could have been a lot longer with it being an interesting dive. We stuck to about 25 mins each pair though to have a little surface interval before a second dive.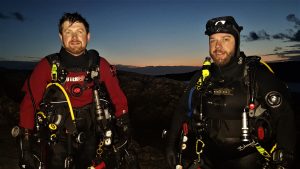 After a brew and a bit more chocolate, and a surface interval of 40 mins, and a loss of light, we waded in again round the rocks before keeping on the left side of the bay for a descent. No light pollution and a high sided bay added to the darkness highlighting the beamed crescents of the torches. A large pollock came to have a look at us, gliding past. More bootlace seaweed added to the ambience of the night dive, and each time you swam through some, there was normally something else to see, crabs, flatties, lobsters, shrimp – and some fish we're still waiting to identify from GoPro footage! All crammed into a 22 minute dive as we were getting aware of time passing and getting out at about quarter to ten and packed up for half-past.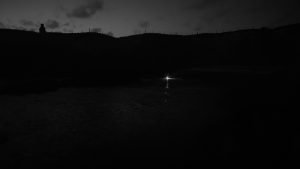 A really good couple of dives. High tide is needed for some depth as it's quite a shallow bay anyway, you might get down to 10m on the right tide, be careful not to go outside the bay. You can park at the top of the slip, or could even drop your kit off in a car down at the bottom of the slip before parking – saves carrying it down. Check the directions off the main road after you have come through Tudweiliog (you can get them off dive sites.) It's a pretty sheltered bay, with only a SW wind that may cause issues. As with any North wales dive, the weather the days before will probably determine your viz. The other tip I might give is make sure you know if the M56 is shut on the way home! A diversion added to the arrival time back in Sale of around 01:30 and after sorting out kit, the whole trip was around 9 1/2 hours. Was a great "day" out though. Thanks for organising Anthony, driving Steve, and the I.T. lessons on the way there Mike!