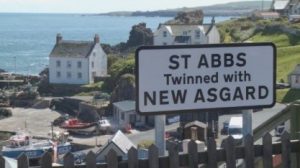 It didn't bode well. A bad weather report and a skipper who was not sounding positive.
Friday morning 8:20 and the message comes: 'I don't think we will get diving tomorrow, looking at the forecast strong north east for most of the day'.
Time for a decision. Well, two couples were going up for a weekend break anyway, accommodation was booked, and Sunday looked promising. Decision made, travel up on the Saturday for a chill out at St Abbs, some good food in the New Inn and a couple of dives with friends from TSAC.
Then I sent out the message to everyone, the first cry off came back, down to 9. Then the next two decided to have a dip at Capernwray and not bother with the journey. Friday 9:00am and we were seven.
Neil and Steve remained undecided and were going to make the decision at Capernwray on the Saturday.
Friday night rolled around and there were five at St Abbs, I was going on Saturday and two still undecided.
On Saturday, I began the journey north having arranged to meet Neil and Steve for a dip at Capernwray. This was soon abandoned after a phone call from Neil stating that the visibility was two meters and it wasn't worth the effort. Still, they had decided to head to St Abbs.
The journey up was quick and uneventful. On arrival, it was obvious why we couldn't dive and quite frankly, didn't look good for the next day.
A good catch up was on order so up to Coldingham's New Inn for a few beers and a good meal. By the time we got back to the harbour, the wind had dropped and the sea was beginning to give us hope of diving on Sunday. This called for a few small whiskies to round off the day and then sleep.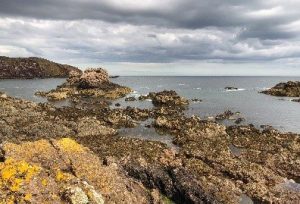 Sunday and the wind had turned, the sun was up and the dives were on. Sadly, two of the party had had a bad night and so we were five.
First dive was a trip out to one of my favourites, Anemone Gulley. This is a series of gullies stretching out underwater from the headland. They are full of large colourful Dahlia Anemones, Nudibranchs everywhere, large Wrasse and lobsters of all sizes hiding in every nook and cranny. With 8-9 meters visibility and a slight drift, we floated happily through the rocks over the cloud-like plumose anemones, stopping now and then to investigate an interesting looking marine creature.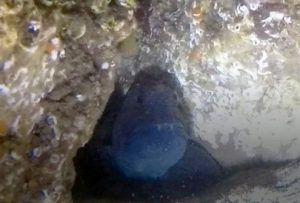 We only got to about 16 meters and then just as I was thinking of ending the dive and surfacing there was one more gap. By turning myself upside down and pointing the torch deep into the cave, there it was a grumpy looking Wolf Fish, dive made. These enigmatic fish are always my target and the highlight of a dive. To find one at 14 meters was highly unusual, normally they like the 19 – 25 meter area.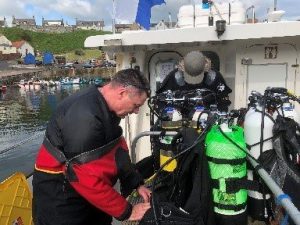 We returned to the harbour and refilled ready for the second dive at Weasel Loch. I must confess to not liking this as a boat dive as it can be reached via some steps and completed as a sheltered shore dive.
Still, sometimes it's good to trust the skipper and follow where his knowledge leads, and this was true of today. The loch itself was a non-starter as the swell was still up but outside it was fine and again great visibility.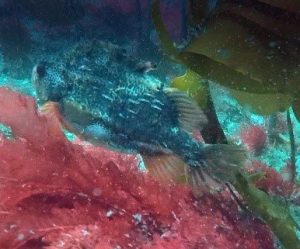 The usual inquisitive Wrasse, lobsters, nudibranchs, squat lobsters, crabs and occasional Sea Bass were in evidence, but hiding in the kelp was one of my favourites, a Lump Sucker. It lazily moved off through the kelp allowing me to track it and video its progress until, bored, it sped off into the distance. Once again, a great dive.
It was another four-hour journey back to reality from New Asgard but well worth the effort. Good company and two wonderful dives. St Abbs never lets me down and I can wait to return.